The WeTeachMe booking system is an experience that simplifies your business life and your customers' lives. Build trust and confidence by offering a simple, secure and complete solution that meets everyone's needs.
Automatic confirmation emails and tax invoice generation upon purchase

Secure payment processing integrated into the booking system

Do everything yourself: 1-click ticket transfers, refunds and cancellations, and much more

Integrates to you website and social media accounts

A simple integrated 3 step booking process - all within your website, to create a seamless booking experience for your clients.

Running multiple terms? Take the initial payment details once and have the next terms deducted automatically with confirmation emails

Gift voucher purchase/redemption

Customisable coupon voucher codes

Integrated booking widgets for your site. Image or calendar options available

Design that's simple, steamlined and fully mobile-ready, to keep up with the on-the-go nature of your customers and ensure maximum conversion

A centralised management system that ensures all your online and offline bookings stay in sync.

Ability to set up and have customers purchase memberships
WeTeachMe's simple yet powerful system is a complete dashboard of your sales history, customer information and much more. This allows you to make smart plans and the right decisions for your business.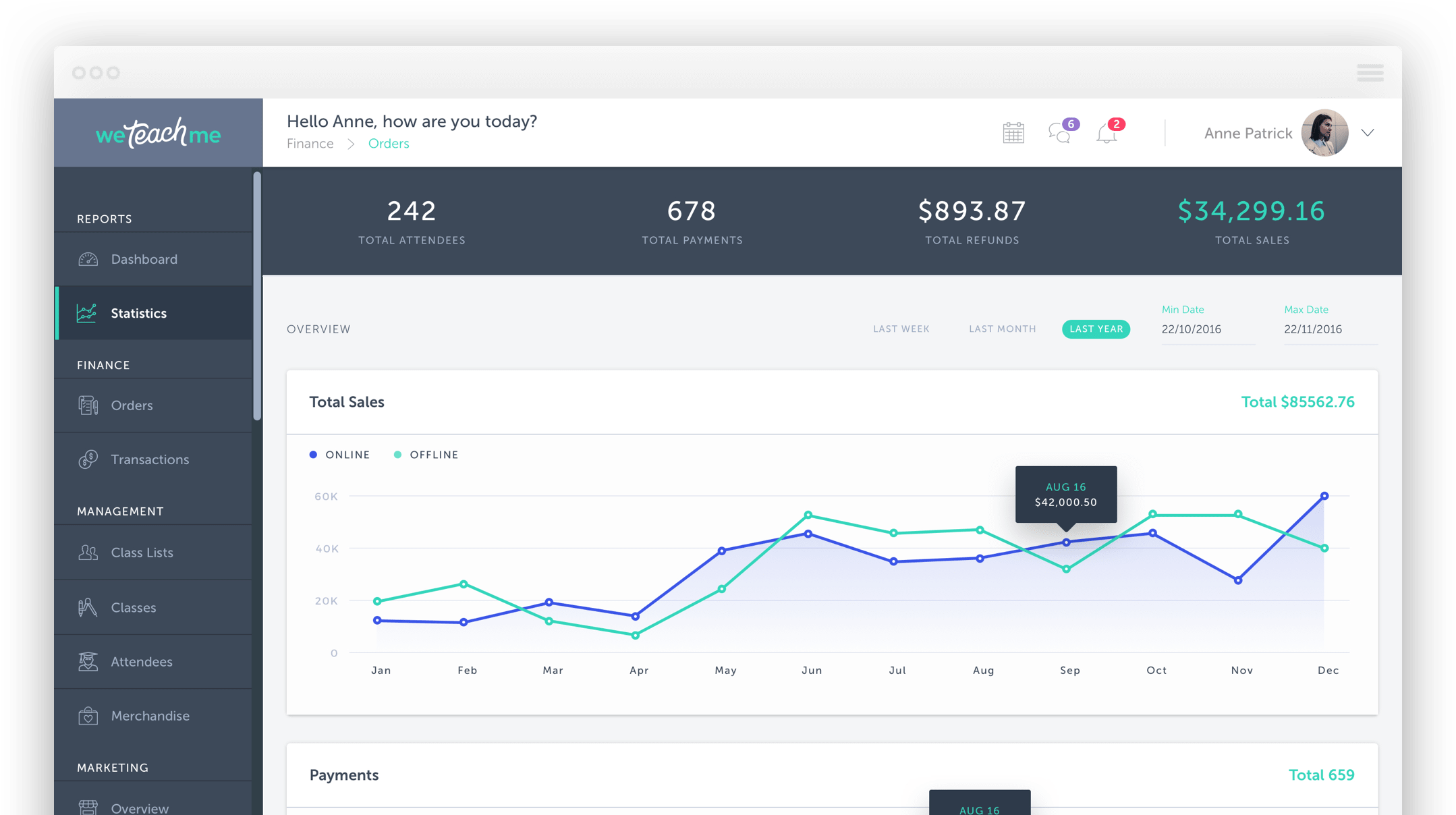 Add and edit your own classes. Anytime you want.

Accessible and exportable attendee information

Robust statistics that you can understand and action upon

Centralised system for all you accounting needs. Financial information downloadable as a CSV.

Compulsory and optional merchandise upon registration

Roll call / Attendance monitoring and printable name tags

Ability to set up multiple accounts with customisable access rights

Ability to refund, charge extra,cancel tickets.

Easily transfer students from one class to the next

Ability to refund, charge extra and cancel tickets.

Customisable enrolment forms: childrens classes template available

Customisable terms and conditions and refund policies

Ability to accept deposits or ongoing partial payments

Ability to migrate all returning students to the next term

Obtain any information you need from your customers with customisable booking fields

Ability to add internal notes on everything and share with the rest of your team

Track any changes made to your account: see when the change occurred, and who made it!

Know where your customers are coming from and define which marketing efforts are working for you through advanced tracking features
Flexible ticketing options with the abilitity to handle multiple workshop types. Private/group bookings, one offs, ongoing classes, classes running multiple terms and sessions.
Automatic Pro rata term bookings

Ability to sign people up to 2-week paid or free trial, and the internally transfer customers to a pro-rata ticket for the current term.

Private, individual or group class bookings. Private events such as birthday parties, extra private coaching sessions, holiday camps, holiday programs and workshops.

Organise free workshops

Set up early bird, bring a friend discount tickets

Choose when to start and stop accepting bookings
Experience enterprise-level technology in a user-friendly platform. Build your branded profile quickly and administer your classes with ease.
Class / booking form templates

User friendliness in adding/editing classes through the use of a dropdown prompt functionality

Customisable WeTeachMe profile, includes profile picture, banner and video.

Update/add new classes in the WeTeachMe dashboard and have it instantly update your website & WeTeachMe profile listings.

Archive classes (perfect for school holiday programs)
Put your business in front of an audience that is eager to engage. We promote your business alongside the best brands - reaching customers to fill your calendar with more bookings quickly.
Listing on our community marketplace

Targeted Weekly Newsletter

Extensive social media reach

Social media campaigns

20,000 daily page views and growing